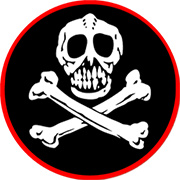 RED LASER
Red Shadows Weapons Technician
Filename: Classified
Primary Military Speciality: Laser Dynamics
Secondary Military Speciality: Artillery
Birthplace: Saitama, Japan

RED LASER was a student of Laser Technolofy at the University of Tokyp until his designs surpassed academic usefulness and he needed funds for the prototype testing phase. His dreams of wealth and oiwer allowed him to be swayed into corruption by a Japanese organized crime syndicate. His exceptional technical skills and high-tech weapon designs were then discoverd by the leader of the RED SHADOW. He was quickly recruited and brainwashed in Ironblood's laboratory to become an even more dedicated and ruthless flag-waving follower of the evil mastermind.
RED LASER serves his leader's fanatical cause by working from a secret laboratory in South America to manufacture state-of-the-art weapons systems. He quickly developed the Laser Exterminator turret into the most powerful and deadly weapon in the RED SHADOWS armory. Now he's ready to test its firepower against anyone who stands in their way, especially the Special Action Force!
"Blood for the Baron!"
Red Laser is a GI Joe Collectors Club exclusive. A tribute to the classic 1983 Red Laser figure.