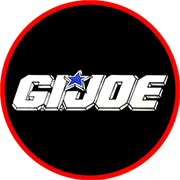 CAPTAIN GRID-IRON
Hand-To-Hand Combat Specialist
Filename: Lydon, Terrence
S/N: 903-S221-YY07
Primary Military Speciality: Hand-To-Hand Combat Specialist
Secondary Military Speciality: Infantry
Birthplace: Evergreen Park, Illinois
Grade: 0-3
Capt. Grid-Iron was quarterback of the West Point football team and graduated in the top ten of his class. It can be said in his favour that he passed up an appointment to the U.S. Army War college for a conventional infantry command at the company level. It was this determination to be "where the action is" that brought him to the attention of the GI Joe organization.
"The other GI Joes were a bit put off by this West Pointer when he first showed up, but he turned out to be bearable to the point that nobody tried to 'lose' him on the first mission. In fact, if he would only stop trying so hard to be likeable and put a halt to his John Wayne (classic Hollywood tough guy) imitation, they might let him play quarterback at the annual GI Joe Fish Fry Football Game!"
A re-release of 1992 Captain Grid-Iron.