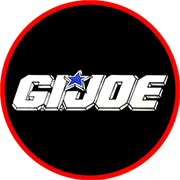 AMBUSH
Concealment Specialist
Filename: McMahon, Aaron
S/N: 849-1343-AM97
Primary Military Speciality: Concealment Specialist
Secondary Military Speciality: Infantry
Birthplace: Walnut, California
Grade: E-3
Ambush has no trouble staying out of sight. When he was ten years old, Ambush participated in a neighbourhood game of hide-and-seek, then disappeared for three days. It wasn't until the National Guard was called to aid in the search that his well camouflaged hiding place was discovered under his parents front porch. After he joined the Army, he became so evasive that even his drill sergeant was unable to account for his whereabouts during the day.
"When this guy goes on assignment, expect the unexpected! There's nothing he won't do to accomplish his mission. Once, he concealed himself as a shrub, tumbled into a heavily guarded Cobra weapons depot, captured their base Commander, then safely delivered him to GI Joe headquarters for interrogation! To this day, we still can't figure out how he pulled it off!"
A re-release of 1992 Ambush.