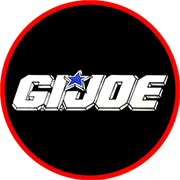 RED STAR
Oktober Guard Officer
Filename: Krimov, Anatoly Fyodorovich
Primary Military Speciality: Commando Operations (Naval Infantry)
Birthplace: Odessa, Ukraine, USSR
Grade: Captain
Detached from the crack Black Sea Regiment of the Soviet Naval Infantry, (equivalent of our Marine Corps), RED STAR now commands the Russian version of the GI Joe Team, known as the Oktober Guard*. He was the youngest chess master in Odessa at the age of eleven, and is a published Pushkin scholar, his monograph of "Boris Godonov" being considered the definitive work. In his spare time, he coaches the pistol team at the Dynamo Sports Club at Moscow.
"Red Star came home from that mess in Afghanistan with a bad attitude and a funny look in the eye, but when they needed and experienced field commander to lead the Oktober Guard, he leaped at the chance. He wasn't about to let the top volunteers from all the best units to be led by some party toad with relatives in the high command and a yen to become a hero of the Soviet Union."
*This elite formation includes volunteers from the SPETSNAZ Commandoes, the Airborne Brigades and the KGB Border Guards.