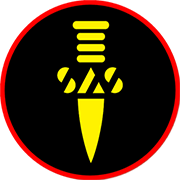 BARRACUDA
Code Name: Barracuda
Personal Name: Bouvier:Jean-Luc
Action Force Code Number: AF 342102
Primary Military Speciality: Underwater Assault
Secondary Military Speciality: Sabotage
Birthplace: Marseilles, France
Champion swimmer. Barracuda has vast experience in scuba diving and spent several years diving for an oil rig company. Joined French Foreign Legion to escape arms smuggling charge, where he swiftly became an expert knife fighter and explosives expert. Joined Action Force when he left the Legion.
"Barracuda is highly temperamental but dedicated. Part of right foot missing after encounter with a shark."
Barracuda was originally released in 1983.