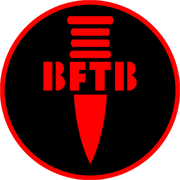 BARON IRONBLOOD FIGURE
2012
BFTB's exclusive Baron Ironblood figure! Created in conjunction with The War Department, Marauder's Gun Runners, Vintage Star Wars Collectables and Malcolm Orr.
The figure was officially released at the 2012 Roll Out Roll Call 3 UK Action Force & Transformers convention, figures were 25 GBP each. Only 80 of the 100 figures were made and strictly sold as separate pairs.
SOLD OUT.
Cover art by Ralph Niese.