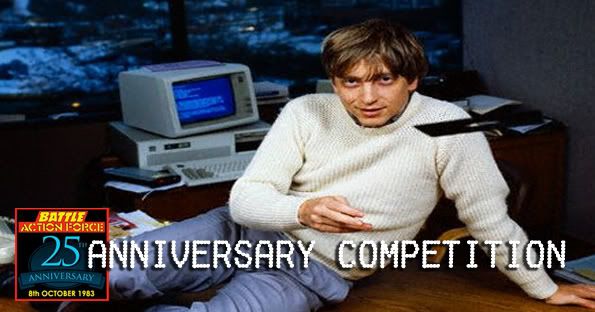 25th Anniversary Celebrations - 1983 Quiz
Okay, here's the deal. I'm in SUCH a great mood this evening after reading this site and all the posts, especially after a sh*tty looooong day at work writing creative tenders. Such a good happy mood in fact, that I've decided to add even more goodies to the celebrations of my favourite ever comic. As we all know,
Battle Action Force
is 25 years young today and so along with all the efforts of
Baron
and
Jamar
and all the generous members with the big draw later tonight.... I wanted to offer up a chance for someone to win a sketch card of their choice from either one of 2 artist mates of mine.
Hopefully, this will help prolong the day and ensure all forum members around the world have a chance to win something else in honour of our lovely friends who were born at Palitoy.
:::::::::::::::::::::::::::::::::::::::::::::::::::::::::::::::::::::::::::::::
"So, along with the big draw later on, how do I try and win something else on this special day then?!"
Basically, everyone who send all (or the most) correct answers to the 1983-related questions below and PMs me the answers by 12:00midday GMT on 09.10.08, will be entered into a draw to win a card of their choice by either
Lance
or
Grant
. Simply send your answers/guesses for each of the questions to me via PM by the deadline to be in with a chance - remember to include which artist you would like to have, as well as the character from Action Force you'd like them to draw for you. To help you decide which style you might like, a couple of sample
Storm Shadow
cards from my collection are below for reference. If you were a big fan of Stormie, I just might be tempted to let you have one of my originals instead: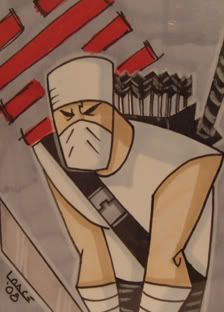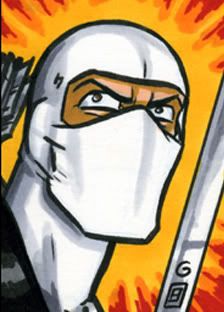 (left: Lance, right: Grant)
On October 8th 1983.....
1. Where did the band R.E.M play a gig?


2. What was the size (on the Richter Scale) of a moderate earthquake that hit Central New York?


3. What song was #1 in the UK Music Singles Chart?


4. What age in years was Joe Colquhoun, the artist behind 'Charley's War', the comic strip in Battle/Battle Action Force?


5. Who is that bloke featured laying on a desk in the competition header image at the top of this thread?


6. How many Action Force 'Red Shadow' figures did SLIPPY own as a 7 year old boy?
So, please answer or guess the above questions and send them to me via PM on this message forum.... remembering to include your preferred artist and character choice.
Good luck everyone and bear in mind the closing date is 12:00midday GMT on 09.10.08.
Thanks and let's all enjoy and savour the day and this cracking community.



Steve
PS: To make it all fair, I'm now sending
Baron
a quick PM containing the answers - to ensure everyone knows it's equal chance across the board.