(Lost thread recreation)
Here are two examples of production variations of the same character.
The plastic on the "new" versions is less rubbery and limbs break off easier than on the "old" version.
Red Shadows
What I consider the "new" version is on the left.
It has become known as the "Dufus" shadow due to the less threatening eye slits.
Note the thicker soles, less clawlike hands and shorter head.
The head is also more symmetrical than the "old" version on the right.
Also the eagle on the new version is just painted on, not moulded.
Webbing straps on "old" version not fully painted.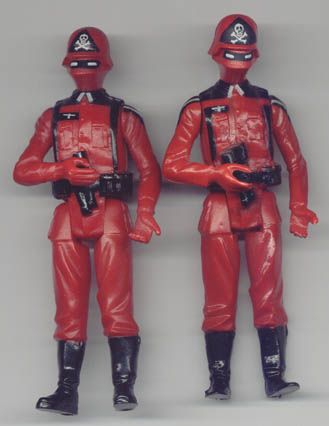 Z Force Infantryman
"new" version on right this time.
Note longer visor on cap and difference in hand and belt moulding.
Camo paint mask is more sparsely applied and sharper edged, shoulder

logos also more defined than on "old" version.