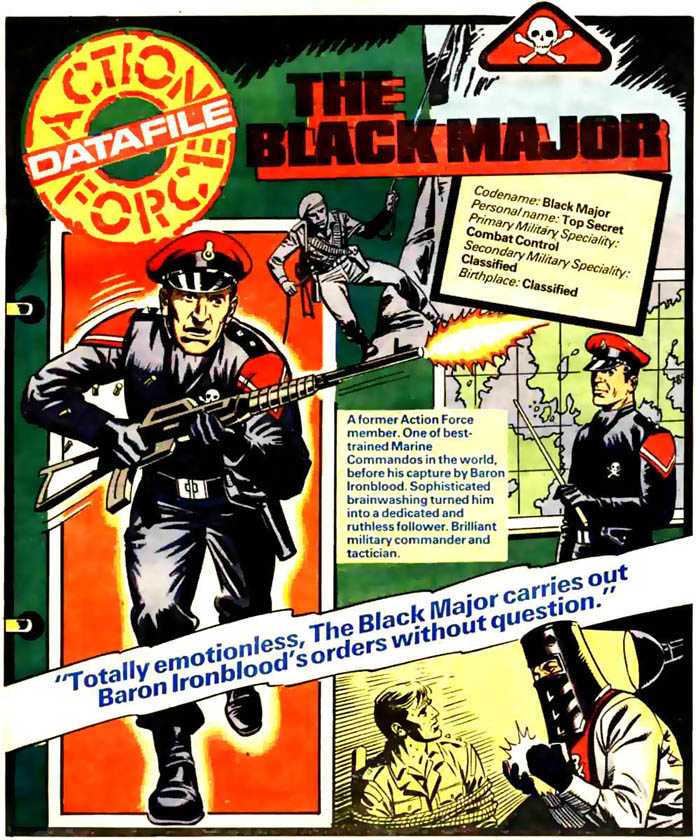 The Black Major
The Black Major's origin story is an epic tale. Following his school days through his bootneck career to his enrolment in Action Force, John Shepherd's mean streak and competitive edge are evident from the start, he gradually develops into a ruthless murderer. This dark tale paves the way to his downfall when he is captured by Baron Ironblood's Red Shadows. He is broken by the Baron's mind control and reduced to a mere puppet. Utterly compelling.
Action Force
Ironblood's Revenge!
Jungle Ambush
Space Battle
Operation Bloodhound
Attack!
Tank Hunt
Sea Fury
Operation Spearhead
Death Castle
Operation Ironblood
Ambush!
Crossfire!
Codename Kraken
Menace of The Baron
The Black Major's service in the Red Shadow movement is a bloody chapter indeed. Completely merciless, the Baron's attack dog turns his Action Force training against his former comrades time and again. His loyalty to The Baron is absolute.
Assault on Atoll Z
Assault on Atoll Z is a fierce struggle for supremacy in the South Pacific. The Black Major and Red Laser lead a contingent of Red Shadows against a Z Force outpost. The battle rages in the midst of Hurricane Yola culminating in the Major and Laser being swept out to sea on a tidal wave.
World Enemy No. 1
While not being featured in the world-changing events of "World Enemy No. 1", the Black Majors life is forever altered by this classic story. Baron Ironblood betrays his Red Shadow minions to Action Force and vanishes without trace. Red Jackal survives the onslaught and vows revenge on Ironblood. He too is a former Action Force operative turned by The Baron's brainwashing programme.
Red Jackal
Baron Ironblood changes his identity to that of the Cobra Commander and recruits an army of mercenaries. Red Jackal tracks him to his lair and moves to destroy him. He fails, and is mockingly remoulded as Destro. The Cobra movement is born.
Death in South America
Revenge of The Red Shadows
After months as castaways the Major and Red Laser return to civilization. Quickly gathering the tattered remnants of the Red Shadows together they set out to renew their struggle against Action Force, as well as the forces of Cobra. Cornering Cobra Commander on the battlefield, the Major is horrified to discover the truth. He drops his guard and is lost.
Showdown for The Shadows!
School For Snakes
From the ashes of defeat the Black Major returns, more bloodthirsty than ever. He has sworn revenge on his betrayer and former master, Baron Ironblood AKA Cobra Commander. In the midst of his crusade an encounter with Destro leads to a secret agreement between the two of them to kill Cobra Commander. He sacrifices the bulk of his army to steal a fortune in South American valuables.
Storm Shadow
Acting on a tip-off, Cobra Commander despatches Storm Shadow to assassinate the Black Major. He barely escapes with his life and is not heard from again...
Rise of the Red Shadows
A new Red Shadow movement rises to challenge both GI Joe and Cobra alike. Led by the mysterious Wilder Vaughn, could he be an older John Shepherd?